Liliuokalani Ridge - possible extinct ridge
ID: 3-13
| | |
| --- | --- |
| Ocean: | Pacific |
| Spreading centre type: | Possible large-scale mid-ocean ridge |
Review of previous studies:
Atwater et al. (1993) reviewed the fracture zones and tectonic features formed during the Cretaceous Quiet Zone in the North Pacific and suggested that the Liliuokalani, Hess, and Sculpin ridges could all have potentially been extinct spreading ridges. However, Atwater et al. (1993) acknowledge that these ridges could alternatively be later formed volcanic features and since their study, little data is available to support an extinct ridge origin of the ridge. Our review of the global bathymetry and gravity datasets in this region of the Pacific could not did not uncover any linear features that were convincingly 'extinct-ridge like' in morphology.
Observations and comments:
We assessed two possible locations for an extinct ridge axis in the region of the Liliuokalani ridge, one on the volcanic ridge and the other a linear feature, visible as negative gravity anomaly in the vertical gravity gradient grid (Sandwell et al., 2014). Well-defined fracture zones in the region of the ridge are oriented approximately perpendicular to the ridge, which is consistent with a possible spreading centre origin to the structure. Both features have relief and an axial gravity anomaly that is within a standard deviation of the primary tier fore well-defined extinct ridges, however the morphology of these features is significantly different to many other examples that we reviewed. Variations in depth of up to 7km are evident at the Liliuokalani Ridge (much greater than other ridges reviewed) and although it is significantly shallower than the surrounding seafloor, there is a reasonably well-defined trough in the center of the ridge, that is coincident with a low-amplitude negative free-air gravity anomaly (see profiles below).
The linear free-air gravity anomaly observed to the west of the Liliuokalani fracture zone (alternative placement shown below), has a relatively symmetric gravity anomaly, yet the morphology of this structure is closer to a pseudofault or fracture zone, with the east flank slightly more elevated than the west flank. Our review found that there was some evidence that the Liliuokalani ridge could be an extinct spreading ridge, however further studies are required to improve understanding of the structure.
References
Atwater, T., Sclater, Sandwell, D., Severinghaus, J. and Marlow, M. S., 1993, Fracture zone traces across the North Pacific Cretaceous quiet zone and their tectonic implications, The Mesozoic Pacific: Geology, tectonics, and volcanism, v. 77, p.137–154.


Liliuokalani Ridge possible location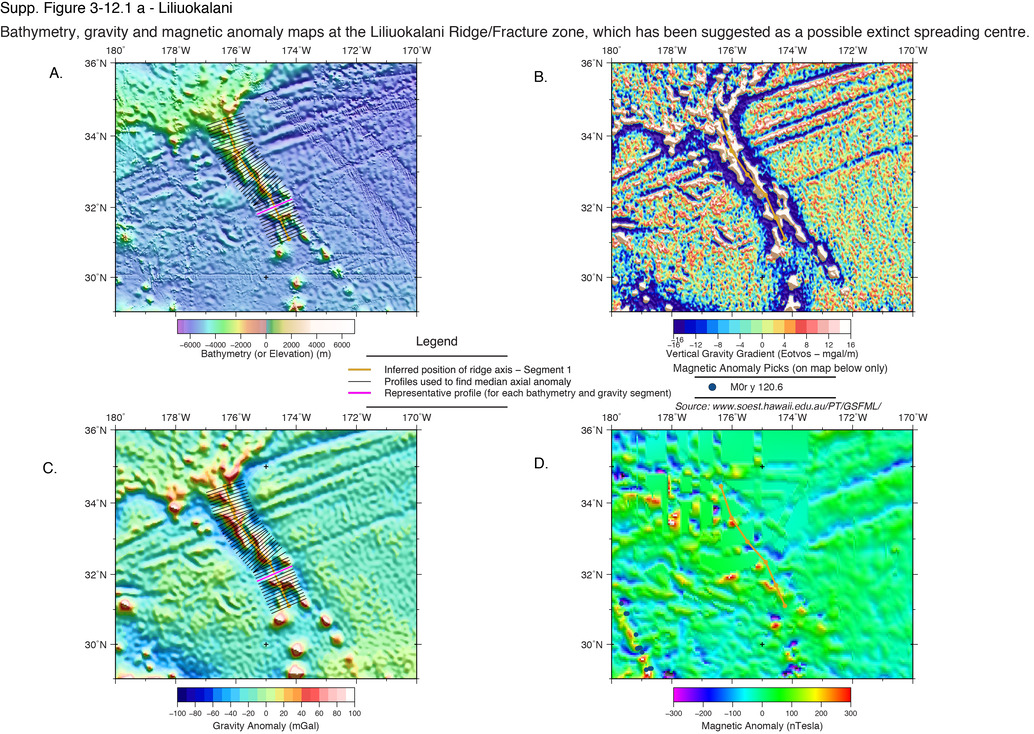 Liliuokalani Ridge alternative possible location